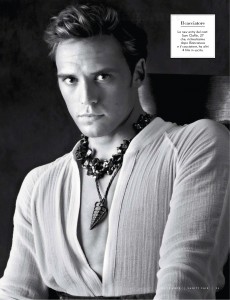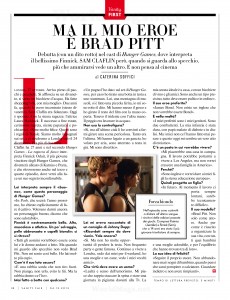 Catching Fire is out today in Italy and Vanity Fair celebrated the event with an exclusive interview with Sam. Caterina Soffici already met Sam two years ago while he was promoting Snow White and The Huntsman, now he's ready to talk about The Hunger Games, his plans for the future, his personal heroes, and more.
Translation from the article:
He debuts (with a broken finger) in the cast of The Hunger Games, in which he plays the part of the beautiful Finnick. However when SAM CLAFLIN, looks in 
the mirror, he more than admires himself as he sees someone else. And he doesn't think about cinema.
London, October 17. He arrives full of bags. He sits on a sofa, and he fill's himself a glass of water. Did you do some shopping?  "Yes, with my wife". Two years ago, 
when I met him (on the same sofa), Sam Claflin was engaged. Now he's married. With the same girl: actress Laura Haddock. It happened at the end of the Summer, secret 
cerimony, no paparazzy and very few friends. "I'm very happy. These are Christmas Gifts. We are very busy on various sets, and we'll see each other in London only on 
December 24th". In more than two months. Claflin is 27 years old and in the second Hunger Games - Catching Fire plays Finnick Odair, the youngest victor of the Hunger 
Games, who'll become an ally of Katniss and Peeta, and that we'll meet again in the third and fourt movies, in which he'll reveal an inconfessable secret. 
You always play the "good guy", like this character in The Hunger Games?
In Posh, that it'll come out next year, I explicitly asked to play the bad guy. They wanted to give me the part of the good guy again, they say I'm adorable.
Finnick is "extremely beautiful. Tall, muscled, and athletic. A little wild, tanned and with blonde hair": do you see yourself in the description?
Every man want to be like him and all the women want to sleep with him. When I look in the mirror I don't see Brad Pitt. I don't think to be that beautiful. I have 
many dark sides.
How is your dark side?
It's a silent anger I don't express. I don't cry, I don't yell, I avoid fights. But I have some anger inside me.
Did you ever fight someone?
I punched someone once: in the set of The Hunger Games, I accidently hit a stuntman on the head. He - a mountain of musle - got just a little wound, I broke a finger. 
They put it into a plaster cast and I filmed the rest of the movie covering my arm. I held the trident with the other hand. The worst thing was working in the water.